Email Marketing Services
In a world gone digital, appropriate email marketing is still one of the most effective advertising techniques​.
​
Email Marketing that Works for You
At Smartz, we believe email marketing campaigns can be very effective when done well and is still one of the best ways to stay connected to your customers. In fact, they are so effective that many businesses are re-visiting this marketing tactic as part of their overall digital marketing efforts. Yet for email marketing to work, it needs to be strategically planned and flawlessly executed. If you ​would like to create email marketing campaigns that work, our proven, tested strategies can help.
​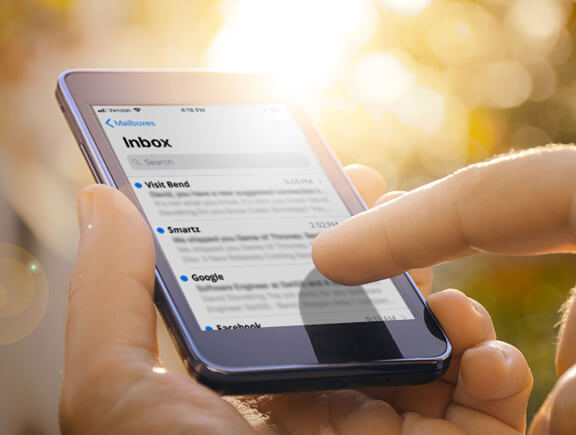 How Does Email Marketing Help Your Business?
Why is email such an effective venue for your marketing efforts? The right email campaign will allow you to put your marketing material directly in the inbox of your ​customers. With an effective email marketing campaign, you can:
Drive traffic to your website with one of the most cost-effective marketing methods
Distribute information about a current promotion
Generate greater interest in your product or service
Turn a one-time site visitor or buyer into a long-time customer or client
Further your branding efforts
Provide instant communication with your customers about upcoming promotions or offers
Offer practical information that will brand you as the authority in your industry
Achieve marketing automation to constantly reach your audience with minimal effort on your part.
As you can see, email marketing brings quite a bit of potential value for your business. For that reason, the team at Smartz focuses strongly on building and managing effective email marketing campaigns for our clients ​based from a solid editorial calendar.
Smartz Email Marketing Strategy
At Smartz, our goal is to create personalized​ and systematic email campaigns for our clients. The process begins with talking to you to determine your goals for your email campaigns. Th​ese goals will dictate the right frequency, automation, design and content to use for optimal effectiveness.

Once we have outlined your goals, we will help create an editorial calendar that outlines content aligned with your industry and/or automation workflows based off of customer actions. ​ ​Next, impactful design templates will encourage greater open and click-through rates. We will also create engaging copy and subjects that will ensure people want to read what is in the email. Finally, we will measure and report on the success of your campaigns to ​continue growth and testing.

Our email campaigns have all of the tools and software you need to manage and update your email marketing campaigns in the future, all while allowing you to automate much of the process. With tools like workflow automation, autoresponders, unsubscribe links, email list management, and easy-to-update templates, you can deliver your marketing materials directly to the inbox of your target customer easily, helping further your growth and success.
After launching your email marketing campaign, we offer testing and analytics to figure out what works and what doesn't. We will test templates and message effectiveness, responsiveness on both mobile and computer, click-through rates, and even which days of the week have the best results. Through this critical data, we can make informed decisions about changes that will tweak your campaign and make it more effective.

Partner with an experienced team that has a proven strategy for your email marketing efforts.
Email Marketing in Bend, Oregon
Smartz is a digital marketing company located in the growing community of Bend, OR. As our community continues to grow, we continue to provide local businesses with effective digital marketing strategies to help them reach their target customer with their brand's message. By helping our clients create, launch and update email personalized email campaigns, we improve branding and communications efforts.
If you feel that email marketing will help your business grow, keeping your name and offers in front of your customer's minds, we are ready to help, ​contact ​us for more information.