About the Swivel Digital Marketing Conference
In this digital age, innovations in marketing are happening all the time, connecting people like never before. As marketers, designers, and business owners, we need all the edge we can get to stand out from the pack and accomplish our vision. This is what the Swivel seminar is for. Improve your knowledge of SEO marketing, advertising, and digital marketing skills!
What is the Swivel Conference?

Imagine a digital marketing conference that rotates on its axis, figuratively providing a 360º view of modern marketing and tech. Swivel is a digital marketing seminar that offers resources and speakers covering a robust variety of topics. The Swivel event has something for everyone, giving attendees a choose-your-own-adventure styled workshop experience. Acquire the digital marketing insights you are looking for and discover something new. Inspiration awaits!
Who is the Swivel Marketing Conference for?
You might be wondering, who is the Swivel event for? We would present a different question; who isn't the Swivel conference for? The great thing about the Swivel event is that it was designed with everyone in mind. Digital marketers, brand advocates, business owners, designers, optimizers, developers, strategists, and content marketing writers. Swivel has attracted experienced keynote speakers from multiple industries each with their own unique insights and inside knowledge. Experience topical presentations that speak directly to you, and learn something new across other fields of expertise.
2018 Speakers
---
Why Should You Attend the Swivel Marketing Conference?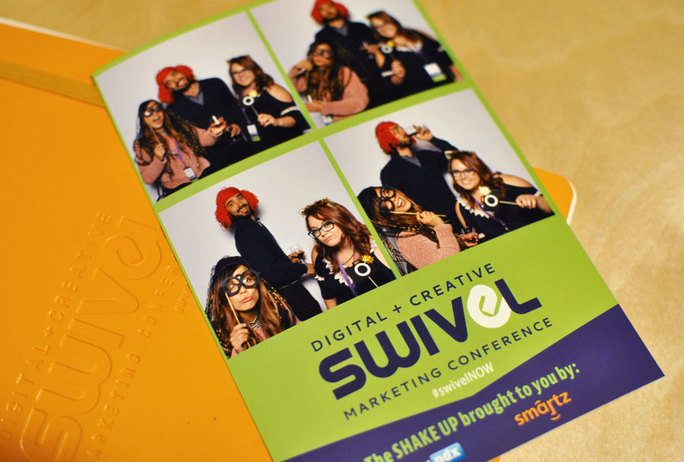 There are many great reasons to attend the Swivel digital marketing conference, from the fabulous location in Bend, Oregon, to the high caliber of speakers and fantastic value. You can see for yourself the top 5 reasons you should attend Swivel. Here are some things you should know about the Swivel Conference.
At the Swivel seminar, you will get inspired. Every topic is designed to equip you and get you moving. Typical subjects include web, social media, creative, and marketing strategies.



The Swivel SEO conference allows you to engage directly with industry experts, connect, and network. Swivel's in-depth workshops provide ample opportunity for knowledge exchange and advice.


Get practical, applicable how-tos from leading tech companies. Get exclusive access to technology and services, from search engine ranking software to social media tools. Add to your list of contacts and take advantage of free trials.



While Swivel is an excellent chance to catch up with industry trends and network, it can also be a great place to recharge. Bend, Oregon is located minutes from the breath-taking Cascade Mountain Range, while offering a dizzying amount of outdoor recreational activities and world-class amenities. During your stay, enjoy the great outdoors, stop by one of the 20+ craft breweries in town, or relax in one of Bend's many spas.



How much does Swivel cost? The full price of two-day registration is just $499. Many other similar marketing conferences offering the same level of speakers and benefits cost three times as much. With Swivel you get quality content, great networking opportunities, and a significant return on your ticket purchase.
Don't forget to use our exclusive discount codes to receive great savings on this awesome conference!
Are you ready to transform your agency or business? Equipped with practical knowledge of content marketing, search marketing, and more, you will be empowered to develop a new strategy and expand your horizons.