Paid Advertising Services
Google AdWords and Facebook campaign management to get you the results you want.
P​ay-Per-Click (PPC) Done Right
Which paid advertising method is the most effective? How can you get the most out of your marketing budget when paying for online advertising? The answer is pay-per-click (PPC) advertising. When managed correctly, this effective paid advertising avenue gives you the opportunity to market your small business exactly where your potential clients are - on the search engines and popular social media sites.
Reach your target audience exactly where they spend their time with an effectively managed, properly optimized PPC campaign. With the help of the marketing team at Smartz, you can have these effective campaigns that effectively reach your target audience.
Our PPC specialized marketing technicians are constantly monitoring client account data and making ongoing optimizations to improve performance.
​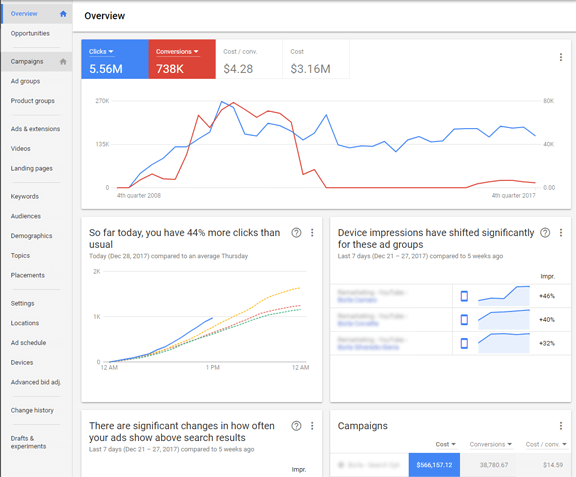 About PPC Marketing
Pay-per-click marketing is not a new player in the Internet marketing world. These campaigns allow you to create ads which are posted on Google, other search engines or social media sites. The ads run based on the keywords you select, and you are only charged when a link is clicked. This can help you grow your online traffic quickly, with highly targeted, effective traffic drawn directly from the search terms the visitor used.

PPC advertising can be highly effective in reaching your target market if your campaigns are run well. Here are some places where you can utilize this marketing tactic as you seek to grow your online reach:
Google AdWords - Google AdWords is, by far, the most commonly used PPC technique. The AdWords system allows you to bid for keywords for which you create ads that will show up on the Google results pages. If you bid smart and choose the right keywords, Google AdWords campaigns can give you guaranteed rankings on the search engines.
Facebook and Instagram - Facebook offers a number of paid advertising options, and PPC advertising is one of those. What makes these interesting is the way you can target your audience based on the information recorded in their profiles and choose where the ads appear. Through a Facebook PPC campaign, you can also target Instagram. These are the sites where people spend a significant amount of time, so they are worth targeting with your marketing efforts.
Bing, Amazon, Next Door, eBay - When it comes to PPC campaigns, just about any popular site has some form of pay-per-click advertising, including these four. Smartz will help you determine which platforms will best meet your target market, and then help you design campaigns to do just that.
Each of these platforms requires specific knowledge of the platform and its respective advertising methods, proper target audience and keyword research, and continuous campaign management skills in order to create an effective marketing campaign.​ Smartz is ready to assist your business in each of these, so you can have effective campaigns that reach your audience and increase your traffic or revenue.
How PPC Marketing Helps Your Business
Marketing through social media and the search engines is highly effective. While organic marketing in these outlets, through social media campaigns and SEO, is important, these methods are not guaranteed. PPC campaigns guarantee your ad placement, so you will see more traffic. This will help your business in many ways, including:
Increased visibility on the platforms your target customers are visiting
High level of control over your marketing budget
High ROI on your marketing dollars, because you only pay when people click
Fast results to determine if what you are trying is working
Accurate data you can use to tweak other marketing efforts
Easy-to-tweak campaigns that can constantly be adjusted based on your analysis and testing
If you are looking for a proven way to drive people to your site, that ensures that they see you and interact with you, then pay per click is the answer.
Questions? Contact us for additional information and PPC audit.